BIOTIN HAIR GROWTH INJECTIONS (IM)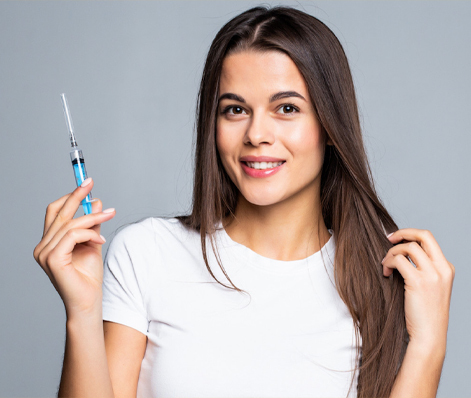 Has your hair become fine and dry? Have you noticed shedding? Let's try a more functional approach instead of just treating the symptoms of hair loss.
The condition of our hair reflects our inner health. Brittle, thinning hair can all be signs of a Biotin deficiency. Biotin is readily available in food, so those with a deficiency may well have a genetic issue preventing full absorption.
Our Biotin Hair Growth Injection (IM) is a single injection taken at regular intervals. It's designed to get to the root of the problem by addressing deficiencies in order to restore your hair's health. However, if you are experiencing a period of continual hair loss, we recommend combining this injection with hair growth treatments such as Platelet Rich Plasma (PRP) injections and scalp micro-needling.
1) Online Purchase is mainly designed for our existing clients to purchase a course online.
2) Once the first treatment is undertaken, no refunds may be issued.
3) Existing clients may need to refill their Medical Questionnaire, at our practitioners' discretion.
4) Clients will need to call or email and pre book their appointments once their course purchase has been completed.
5) All treatment slots must be booked in advanced; no walk-ins permitted.
Please note: online purchases are designed mainly for existing clients who have already undertaken at least one consultation and subsequent treatment with us. Any purchases from new customers will require them to fill in a secured online Medical Questionnaire and attend a first consultation in advance of any treatment being undertaken.
The suitability of pre-purchased courses for all new clients is at our practitioners' discretion. An alternative course may be recommended.