training courses are FULLY BOOKED
VITAMIN IV THERAPY TRAINING
INTRODUCING OUR
IV THERAPY TRAINING COURSE
As specialists in the field of vitamin nutrient therapy, Vitamin Injections London are delighted to announce our VIL Training Package, which is a live vitamin IV therapy training course based on the principles of in-person training, one-to-one mentorship and experience-based educational methods.
Developed by our Clinical Director, Bianca Estelle, our live vitamin IV therapy training course aims to provide you with the maximum amount of practical experience and educational training in exchange for your investment. Our ultimate goal is to ensure that you're confident enough to hit the ground running with professional vitamin nutrient therapy treatments in your own practice.
WHO IS THE VIL TRAINING PACKAGE DESIGNED FOR?
The first course of its kind available in London, our VIL Training Package is designed for qualified paramedics, aesthetic practitioners, GMC registered doctors, NMC registered nurses & midwives, pharmacists and foreign equivalents of the above who wish to master the provision of high-quality vitamin nutrient therapy. They may feel other IV courses focus heavily on theory alone, or lack the one-to-one mentorship and practical experience needed in order for attendees to thoroughly understand IV therapy and succeed in this competitive field.
Suitable for beginners as well as IV-trained professionals, the VIL Training Package is a hands-on course that takes place within our own day-to-day practice, as opposed to a lecture theatre with a simulated clinical environment.
As part of our VIL Training Package, your individual experience levels will be assessed in advance and your live vitamin IV therapy training course will be customised in accordance with your input. As part of the VIL Training Package, we provide specific training for intramuscular (IM) injections and mesotherapy microinjections, as well as a range of other aesthetic procedures (upon request).
One of the following qualifications are needed:
Paramedics
Qualified Aesthetic Practitioners
GMC Registered Doctors
NMC Registered Nurses and Midwives
Pharmacists
Foreign equivalents of the above
DOES IT INCLUDE EDUCATIONAL AND PRACTICAL MATERIALS?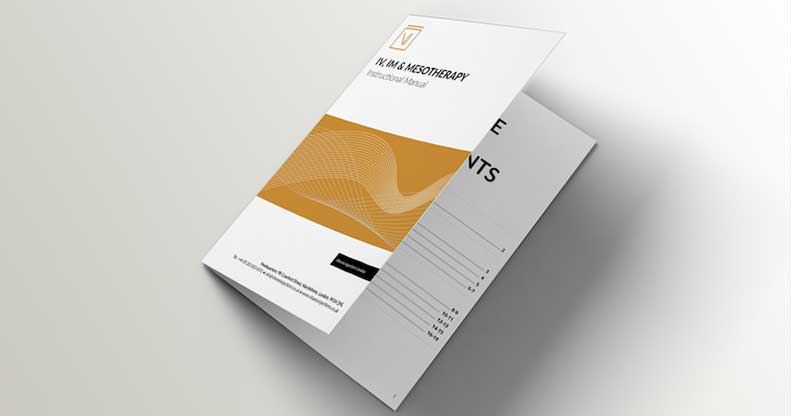 HOW DO OUR TRAINING
METHODS DIFFER?
Our VIL Training Package is a departure from the seminar-led, theory-driven courses that are common throughout the industry. We train individuals as opposed to groups, combining science-based learning with live demonstrations, practical treatment administration under close observation, one-to-one mentorship and real client interaction.
Your IV therapy training takes place within our own clinic, meaning that you will begin to put theory into practice very soon after you arrive at our Marylebone clinic for your VIL Training Package. We believe that learning and skill development are strongly related in this field, and that a true mastery of IV therapy can only be accomplished by encouraging participants to engage both intellectually and practically.
It's well known that information is better understood and memorised within a relevant clinical context, which makes our live vitamin IV therapy programme an efficient and economical way to learn IV cannulation techniques.
Our VIL Training Package participants spend a far greater amount of time observing and performing IV injections than attendees of other courses, who typically spend less than half an afternoon in a simulated treatment room capacity.
COURSE STRUCTURE
As each VIL Training Package is structured according to your needs and adapted to your level of experience, there is no rigid set IV therapy training programme. However, we always cover the following fundamentals:
Mentor-led treatment demonstrations;
Live, one-to-one training under observation;
IV injection, IM injection protocols;
Vegan-friendly IV nutrition therapies and ingredients;
Combination and cocktail IV injection protocols and treatments, including the Myers Cocktail and others;
A brief history of vitamin nutrient therapy, as well as a general outline of current regulatory requirements;
IV micronutrients, minerals and trace elements, including zinc, calcium, magnesium, and others;
IV antioxidants and amino acids, including glutathione, alpha-lipoic acid, and others;
The science of key vitamins in the body, including most B vitamins, vitamin C, and vitamin D;
Treatment specific ingredients and protocols for IV and fat reduction therapies;
Client care and customer service training;
A brief introduction to in-clinic and online marketing methods.
As each VIL Training Package will vary according to participants' needs and requirements, we don't have set costs for these services as they are priced on an case-by-case basis. Currently, however, we are working on three core pricing options according to the following levels of expertise: Beginner, Intermediate and Advanced (further details will be provided in the very near future).
You won't be required to bring along a model along as is normally the case for training courses. This is because you will be interacting with current Vitamin Injections London clients who will have agreed to participate in your clinical training programme.
We are able to train individuals or small groups off-site. Pricing for this service will vary according to your location and particular training requirements, and you will be required to arrange for clients and/or participants to partake in your training.
All live vitamin IV therapy training fees must be paid in advance via our online invoice form. Cancellations within a week of the Package will forfeit a penalty fee.
The standard length of our VIL Training Package is one full working day (10am-8pm), or can be spread across two half-days.
INTERESTED IN OUR PACKAGE?
If you're interested in finding out more about our VIL Training Package, please get in touch with our friendly team by scrolling down and filling out the Training form below.
REGISTER YOUR TRAINING INTEREST