PLATELET RICH PLASMA THERAPY
FOR HEALTHY AND SHINY HAIR
ABOUT PLATELET RICH PLASMA THERAPY
Platelet Rich Plasma (PRP) is one of the latest advancements in hair restoration therapy. Our practitioners use PRP for managing hair loss, as it provides better and faster results than many other minimally invasive treatments.
PRP stimulates follicular growth and reduces hair loss in both men and women. It also stimulates the regrowth of hair and improves its colour, texture and density.
We offer advanced Platelet Rich Plasma Therapy in London using the 4S PRP® machine. This produces the highest possible concentration of growth factors, which stimulate the growth of new hair and reduce hair loss.
As a versatile and affordable antidote to hair loss, PRP therapy has witnessed a sharp rise in popularity on account of the evident results it produces.
HOW DOES PRP WORK TO RESTORE HAIR GROWTH?
Research has shown that platelets, which are primarily known for their ability to support blood clotting, also contain hundreds of proteins known as 'growth factors'. These not only support the body's natural ability to heal itself but also encourage tissue regeneration in the scalp area.
PRP injections are enriched with an exceptionally high concentration of platelets. In fact, PRP contains nearly 5 to 10 times more growth factors than normal blood. Our 4S PRP® machine ensures that a maximal number of growth factors are concentrated in each injection. Its centrifuge enables us to separate the platelets from red blood cells, the latter of which are discarded. This leaves a growth factor-rich PRP solution, which is prepared by our practitioners for injection into the scalp.
Injecting PRP delivers growth factors directly into areas afflicted by hair loss. It attracts the body's own stem cells to the hair follicles and shafts, which stimulates tissue repair and regeneration. After a full course of treatment, the desired effect of hair regrowth and thickening is often visible after several months.
Platelet Rich Plasma Therapy in London is available at our Marylebone clinic. This is a natural, safe, and proven means of treating common causes of hair loss. By introducing growth factors into all areas of the scalp, regrowth can be achieved.
WHAT ARE THE BENEFITS OF PRP INJECTIONS FOR HAIR LOSS?
PRP therapy can repair damaged scalp tissue, hair follicles and shafts.
It can also:
Prevent hair fallout
Support hair regrowth
Revolumise thinning hair
Reduce breakage and split ends
Improve the colour of greying hair
One of the benefits of Platelet Rich Plasma Therapy in London is that it can be combined with additional hair restoration treatments at Vitamin Injections London, including the Hair and Nails IV.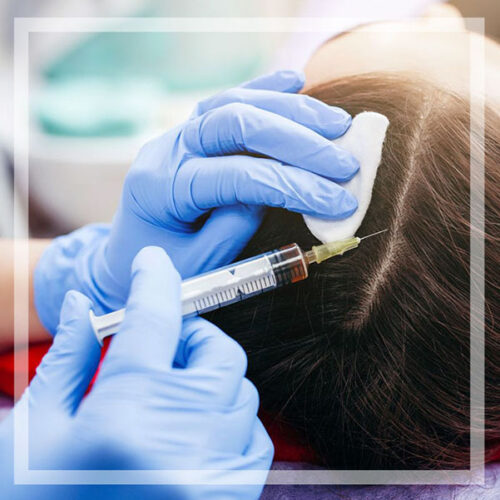 During PRP injection therapy for hair loss, a small blood sample is drawn from the arm and processed by our industry-leading 4S PRP® centrifuge. The platelet-rich solution obtained is then injected into the subcutaneous layer of the scalp using a fine needle. Generally speaking, PRP injections are well tolerated and incur very little downtime.
The number of injections required per session depends on the extent of concern to be treated. Our practitioners administer PRP using a 'point by point' micro-injection technique, which allows for multiple aliquots of PRP to be distributed across all afflicted areas.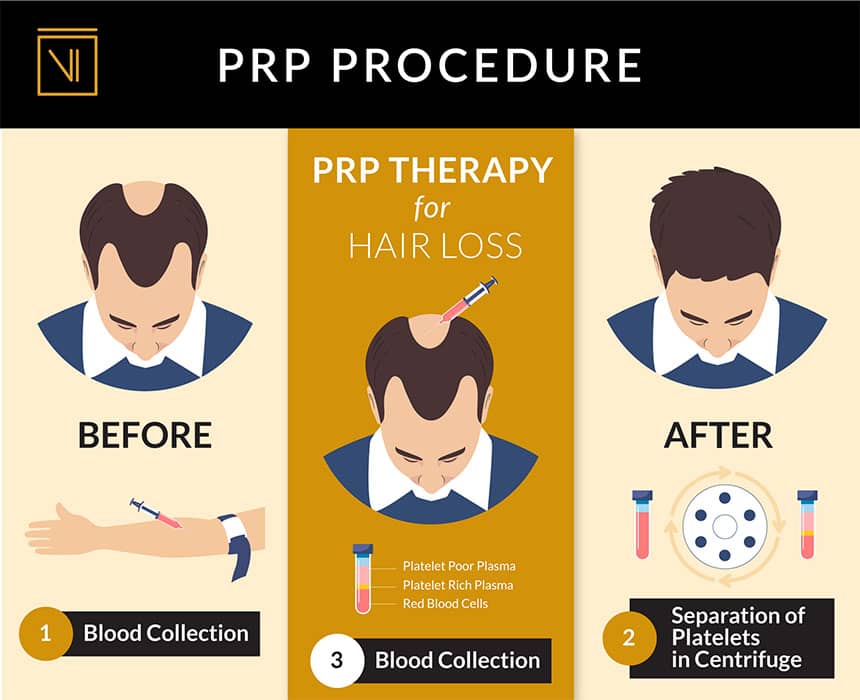 WHAT KIND OF RESULTS CAN I EXPECT
FROM PLATELET RICH PLASMA THERAPY?
You may notice mild swelling and flushing of the scalp skin for about 72 hours after each injection session. A significant improvement in hair growth is often reported within a few months of completing a course of PRP injections. A gradual reduction in hair loss over this period will also be observed. Results typically peak at 3 months and persist for at least one year.
Depending on the extent of hair loss as well as expected results, more than one PRP therapy course may be required.
UNDERGOING PLATELET RICH PLASMA THERAPY IN LONDON
Achieve voluminous, strong and healthy hair with Platelet Rich Plasma Therapy in London at our Marylebone clinic. Please visit our price list to find out more about our PRP single treatment and course prices.
Vitamin Injections London is headed by skilled IV/IM Medical Aesthetician and Skin Specialist Bianca Estelle. Our experienced nutrient therapy practitioners will conduct a full review of your medical history and advise you regarding your suitability for Platelet Rich Plasma (PRP) Therapy.
MORE IV THERAPY TREATMENTS